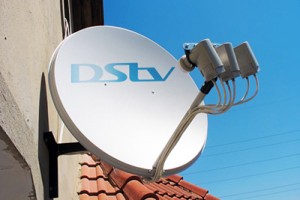 Before choosing aerial and satellite dish products it is best to consult with a specialist DSTV dish installation Pretoria service – and that's why we are here. We'll talk you through the finer the details which can help avoiding unnecessary expenses later on. The type of dish installation you choose will determine your TV programming and the number of digital broadcasts you'll be able to view.
When it comes to choosing a dish you should find out about the various models available, their characteristics and reception capabilities. All of this will affect your viewing pleasure. The cheapest option on the market tend not to be water resistant and may only last up to 18 months. Your picture might occasionally breakup too, especially in bad weather. We have certain products that can withstand wind and keep a quality picture thereby removing a lot of potential frustration.
It is important not only to install a quality dish but to do it in such a way to be able to receive a strong signal in all weather conditions. Lesser companies have been known to do a poor job here and our Pretoria satellite dish installers are frequently called upon to do dish re-installations and precision alignment fixes. This is particularly important if you're thinking of choosing HD transmissions. Here smaller dishes are of no use and we strongly recommend one of our 70cm HD dishes.
Perhaps you're wondering how to install a DSTV dish? Put down that ladder and leave the installations to us! When it comes to dish installation prices we can' be topped. With our experience in DSTV dish alignment we make sure you get the very best signal and viewing experience. We're available for all types of dish-related issues such as:
– Tuning up your existing DSTV satellite receiver and dish.
– Satellite dish re-install & dish removal
– Option of LNB, twin LNB, depending on your needs
– Dish alignment / dish direction
For more information contact our affordable DSTV satellite dish installations Pretoria service on 012 004 1880!
The Best in TV Aerial Installations in Pretoria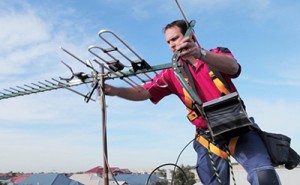 Our Pretoria-based company specializes in the setup of all types of aerial systems that will allow you to receive terrestrial and digital channels. Our qualified aerial installers will put in the right aerial for your property and align to get the very best signal and give you the best possible viewing experience. By using the right amplifiers, power supplies and attenuators we make sure you won't experience any fuzzy reception. Our TV aerial antenna installation Pretoria service can be integrated with your satellite accommodating more than one TV in your home with access to different simultaneous broadcasting. We also do both communal satellite and aerial installations for apartment blocks, businesses and offices.
LNB Alignments and Installations
An often overlooked part of the DSTV setup is the installation of your LNB which can lead to issues when you want to watch certain channels. Our accredited LNB installer in Pretoria will correctly connect your dish to the decoder thereby preventing any loss of reception.
Our PTA satellite and aerial service is available throughout the week and offer same-day service. You can also contact us for aerial and dish repairs too, should you be experiencing any problems. To find out more, give us a call today on 012 004 1880 or drop us an email using the contact form on this page and we'll respond ASAP!